Your Digital Emergency Kit 
now – for later – forever
Store relatives as emergency contact
Store first aid information securely and centrally
Store powers of attorney and dispositions digitally
Enable access via QR code for emergency services
What is the Digital Emergency Kit?
The digital emergency kit is a protected area in our memoresa portal. We want to help you to take precautions for all life situations.
Your Digital Emergency Kit contains all your first aid information. This includes information about your blood group, intolerances or pre-existing conditions, your emergency contacts and patient care documents.
You can access these documents anytime and anywhere using your smartphone. You can no longer forget anything.
In addition, you can also give emergency personnel access to them via a sticker with a QR code. This way, they can help you as quickly as possible.
How do I create my Digital Emergency Kit?
Here you can see how to set up your digital emergency kit in just a few steps.
What happens in an emergency?
This is how rescue workers get your first aid information:
Fill out your first aid page in the emergency kit.
Share the page so that the information is available in case of emergency.
Order a sticker set with your personal QR code.
Place the stickers on your ID card, health insurance card or smartphone.
In case of an emergency, helpers have access to your information.
What documents are needed in an emergency?
Living will
In a living will, you record which medical measures should be carried out in the event of your incapacity to make decisions. If you store it in the digital emergency kit, hospital staff can access it quickly.
Vorsorgevollmacht
Your health care proxy is the most important supplement to your living will. In this document, you specify trusted persons who will regulate your health, financial and social affairs in the event of an emergency.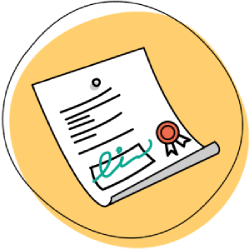 Care directive
The care directive becomes necessary if no one from your familiar environment can take over the task of a proxy or authorized representative. In your care directive, you determine your own legal care. 
Vaccination card
Your vaccination card records all the vaccinations you have received since childhood. This makes it an important document that should not be lost. Store it in the digital emergency kit, so you always have it at hand and keep track of everything.
Organ Donor Card
With an organ donor card, you determine which of your organs may be removed and donated after your death – and which not. In the digital emergency case, this decision is also easily accessible to third parties.
Our first aid for your questions
Write us an email with your request
For analogue first aid
Only those who have the right medical equipment in the right place at the right time can act effectively – and save lives.
To ensure that your data and documents are secured at all times, we have designed three price models:
manage up to 10 matters

1 GB cloud storage space

Ideal for testing, basic information and caring caregivers
Manage 50 matters

10 GB cloud storage space

Ideal for secure coverage of all relevant areas of life
Unlimited matters

1 TB cloud storage space

free in-app features

ideal for all digital management and storage of your documents and as a paperless, digital office
Data protection at memoresa – Interview with data protection expert Dr. Anna-Lena Hoffmann
Your personal account is yours! You decide who can see your data. We protect them with maximum care. This also includes that we do not pass on or sell any of our users' data or make it available to anyone.
Guaranteed! Now, for later, forever!